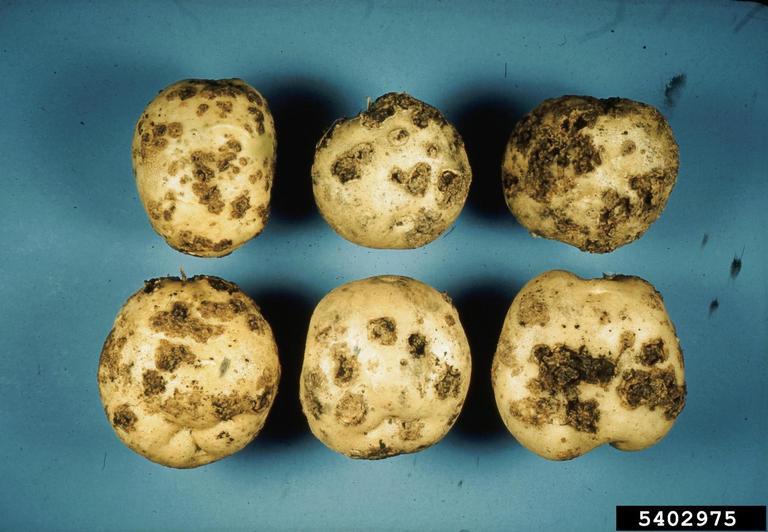 Streptomyces scabies
NBRC No.
NBRC 13768
Scientific Name of this Strain
Streptomyces scabiei corrig. (ex Thaxter 1891) Lambert and Loria 1989
Synonymous Name

| | |
| --- | --- |
| Synonym: | Streptomyces scabies (sic) |

Type Strain
Accepted Date
1977/09/29
Isolated Year
Deposited Year
History
IFO 13768 <- Nagasaki Agric. Forest Exper. Station (S. Kimura, S.s.(N)5)
Other Culture Collection No.
Other No.
S.s.(N)5
Rehydration Fluid
707
Medium
231
Cultivation Temp.
28 C
Oxygen Relationship
Source of Isolation
Tuber of potato, Solanum tuberosum
Locality of Source
Nagasaki
Country of Origin
Japan
Biosafety Level
Applications
Mating Type
Genetic Marker
Plant Quarantine No.
Animal Quarantine No.
Herbarium No.
Restriction
Comment
References
316,1276
Sequences
16S rDNA
Shipping as
Glass ampoule (L-dried)
Streptomyces scabies or Streptomyces scabiei is a streptomycete bacterium species found in soils around the world. Unlike most of the 500 or so Streptomyces species it is a plant pathogen causing corky lesions to form on tuber and root crops as well as decreasing the growth of seedlings.
Along with other closely related species it causes the potato disease common scab, which is an economically important disease in many potato growing areas.
It was first described in 1892, being classified as a fungus, before being renamed in 1914 and again in 1948.
Several other species of Streptomyces cause similar diseases to S. scabies but other, more closely related species, do not. The genome of S. scabies has been sequenced and is the largest Streptomyces genome known so far.
The genome contains a pathogenicity island containing the genes required for S. scabies to infect plants, and which can be transferred between different species.
S. scabies can produce several related toxins which are the most responsible for its pathogenicity, but several other systems have also been identified which contribute.
It can infect young seedlings of all plants, as well as mature root and tuber crops, but is most often associated with causing common scab of potato.
Theo Wikipedia
www.chungvisinh.com