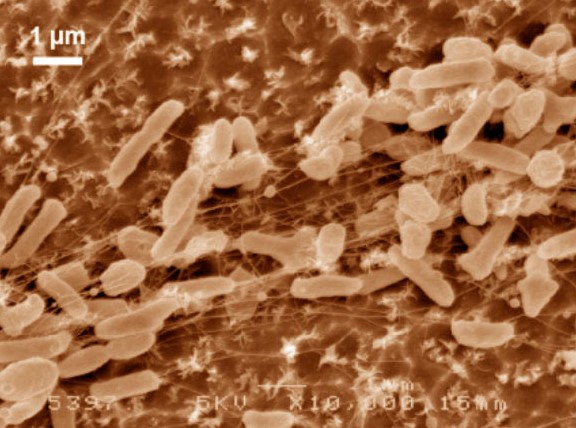 Ideonella sakaiensis
| | |
| --- | --- |
| NBRC No. | NBRC 110686 |
| Scientific Name of this Strain | Ideonella sakaiensis Tanasupawat et al. 2016 |
| Synonymous Name | |
| Type Strain | type |
| Accepted Date | 2014/10/17 |
| Isolated Year | 2007 |
| Deposited Year | 2014 |
| History | Kyoto Inst. Technol. (K. Oda, 201-F6) |
| Other Culture Collection No. | TISTR 2288 |
| Other No. | 201-F6 |
| Rehydration Fluid | 702 |
| Medium | 802 |
| Cultivation Temp. | 30 C |
| Oxygen Relationship | |
| Source of Isolation | Microbial consortium |
| Locality of Source (WGS84) | Sakai, Osaka |
| Country of Origin | Japan |
| Biosafety Level | |
| Applications | Amorphaous polyethylene terephthalate;degradation |
| Mating Type | |
| Genetic Marker | |
| Plant Quarantine No. | |
| Animal Quarantine No. | |
| Herbarium No. | |
| Restriction | |
| Condition for Utilization | |
| Comment | Genomic DNA is also available: NBRC 110686G. |
| References | 7520,7624 |
| Sequences | 16S rDNA |
| Shipping as | Glass ampoule (L-dried) |
Ideonella sakaiensis is a bacterium from the genus Ideonella and family Comamonadaceae capable of breaking down and consuming the plastic poly(ethylene terephthalate) (PET) as a sole carbon and energy source. The bacterium was originally isolated from a sediment sample taken outside of a plastic bottle recycling facility in Sakai, Japan.
Ideonella sakaiensis was first identified in 2016 by a team of researchers led by Kohei Oda of Kyoto Institute of Technology and Kenji Miyamoto of Keio University after collecting a sample of PET-contaminated sediment near a plastic bottle recycling facility in Japan. The bacterium was isolated from a consortium of microorganisms in the sediment sample, including protozoa and yeast-like cells. The entire microbial community was shown to mineralize 75% of the degraded PET into carbon dioxide once it had been initially degraded and assimilated by I. sakaiensis.
The discovery of Ideonella sakaiensis has potential importance for the degradation of PET plastics. Prior to its discovery, the only known degraders of PET were a small number of bacteria and fungi, including Fusarium solani, and no organisms were definitively known to degrade PET as a primary carbon and energy source. The discovery of I. sakaiensis spurred discussion about PET biodegradation as a method of recycling and bioremediation.
>> Xem thêm: Ideonella sakaiensis: Newly-Discovered Bacterium Can Break Down, Metabolize Plastic