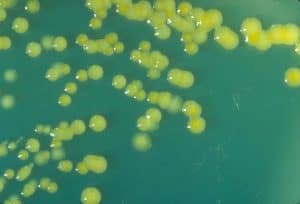 Cronobacter sakazakii
NBRC No.
NBRC 102416
Scientific Name of this Strain
Cronobacter sakazakii (Farmer et al. 1980) Iversen et al. 2008
Synonymous Name

| | |
| --- | --- |
| Synonym: | Enterobacter sakazakii |

Type Strain
type
Accepted Date
2007/01/04
Isolated Year
Deposited Year
2006
History
IAM 12660 <- ATCC 29544 <- J.J. Farmer (Enterobacter flavus) <- Tennessee State Health Dept. <- Primary Hospital Lab.
Other Culture Collection No.
ATCC 29544=BCRC 13988=CCUG 14558=CECT 858=CIP 103183=DSM 4485=HUT 8109=IAM 12660=KCTC 2949=LMG 5740=JCM 1233=NCTC 11467=NBRC 105698
Other No.
CDC 4562-70=CDC 78-067947
Rehydration Fluid
702
Medium
802
Cultivation Temp.
30 C
Oxygen Relationship
Source of Isolation
Child's throat
Locality of Source
Country of Origin
Biosafety Level
Applications
Mating Type
Genetic Marker
Plant Quarantine No.
Animal Quarantine No.
Herbarium No.
Restriction
Comment
Genome Information: PRJDB277 (NCBI BioProject).
References
4701,5496
Sequences
16S rDNA
Shipping as
Glass ampoule (L-dried)
Cronobacter is the officially recognised bacterial genus name for the organism which before 2007 was named Enterobacter sakazakii. The name Enterobacter should no longer be used as the genus name as Cronobacter has been accepted in the International Journal of Systematic and Evolutionary Microbiology, along with the description of the new species. It is a Gram-negative, rod-shaped,pathogenic bacterium. The majority of Cronobacter cases are in adults, and additionally it is associated with a rare cause of invasive infection of infants with historically high case fatality rates (40–80%).
In infants it can cause bacteraemia, meningitis and necrotising enterocolitis. Some neonatal C. sakazakii infections have been associated with the use of powdered infant formula with some strains able to survive in a desiccated state for more than two years. However, not all cases have been linked to contaminated infant formula. In November 2011, several shipments of Kotex tampons were recalled due to a Cronobacter (E. sakazakii) contamination.
All Cronobacter species, except C. condimenti, have been linked retrospectively to clinical cases of infection in either adults or infants.. However multilocus sequence typing has shown that the majority of neonatal meningitis cases in the past 30 years, across 6 countries have been associated with only one genetic lineage of the species Cronobacter sakazakii called 'Sequence Type 4' or 'ST4', and therefore this clone appears to be of greatest concern with infant infections.
The bacterium is ubiquitous being isolated from a range of environments and foods, and the majority of Cronobacter cases are in the adult population. However it is the association with intrinsically or extrinsically contaminated powdered formula which has attracted the main attention.According to multilocus sequence analysis (MLSA) the genus originated ~40 MYA, and the most clinically significant species, C. sakazakii, was distinguishable ~15-23 MYA.